Buddycheck
What is Buddycheck?
Buddycheck is a Canvas integrated tool for peer evaluation of group work contribution. It can be used to enable students to evaluate their own and their peer's contribution to, and performance in, group work.  The output is an adjustment factor which can be used to update the mark awarded to each student individually.
Evaluations can also be set up that do not generate an adjustment factor. Two default questions are available on Team Conflict and Team Satisfaction which use a 1-5 scale (strongly agree to strongly disagree), and it also possible to create custom questions using this scale. Early on in a group project this information can be used to stage appropriate interventions where they may be issues within groups.
In addition to the guides below our Wayfinder on Peer Assessment in Group Work covers the workflow of implementing Buddycheck from group and assignment set up in Canvas through to using evaluation results.
How does it work?
How does it work?
Students score each other on question areas with a final 'adjustment factor' score being generated that can be used to amend the group work mark at the individual student level. A number of default questions are provided based on CATME, however the default questions do not need to be used and custom questions can be added which, as with default questions, are scored 1-5 (5 being highest).
It is important to consider using a tool such as Teams or ePortfolio to help collate supporting evidence in case of disputes within a group. It is also important to introduce this type of activity formatively first. Using the tool for a group health check or check in early in a project, and then for the peer evaluation of group work contributions is a good way to do this. See the Guidance on Group Work with Peer Assessment for further details.
Guides and Resources
Digital Learning Guides
Buddycheck Support
When using Buddycheck, click on the icon highlighted below at the bottom right of your screen to chat with Buddycheck support or access Buddycheck FAQs.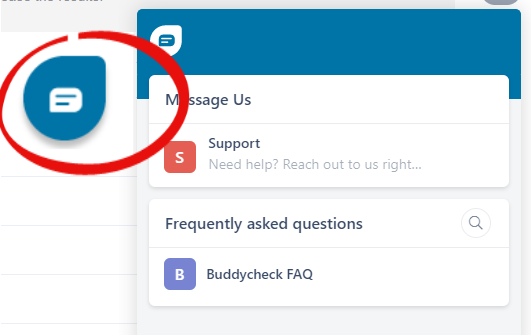 Video Guides Created by Buddycheck
Buddycheck have created some video guides available on Vimeo:
Buddycheck - Complete evaluation as student from Flip van Haaren on Vimeo.
Buddycheck - Review results as instructor from Flip van Haaren on Vimeo.
Top