eduroam Wireless Service (Legacy)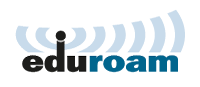 eduroam is the wireless roaming service used by the international research and education community. It is available across campus to all staff, students and visiting academics. Staff and students can also use eduroam when visiting other universities that also support the eduroam service.
NOTE: To connect to eduroam your username will be in the format a1234567@ncl.ac.uk which is your login ID followed by the domain @ncl.ac.uk, this is not your email address.
The eduroam service uses the SSID eduroam with Wireless Protected Access (WPA2) and Enterprise level encryption (EAP).
Select your device from the following list for specific instructions, or you can use the eduroam CAT Configuration Assistant Tool, to configure a range of devices.
Desktop / Laptop


Unsupported

Mobile Devices

Top