Linux
eduroam is the wireless roaming service used by the international research and education community. It is available across campus to visiting academics. The service uses the SSID eduroam with Wireless Protected Access (WPA2) and Enterprise level encryption (EAP).
Connect to the network
The simplest way to connect is as follows,
Click on the Network Manager icon
In the Authentication window,
Set Wireless security to WPA & WPA2 Enterprise
Set Authentication to Protected EAP (PEAP)
Enter your Username and Password, include the domain for your home institution e.g. a1234567@ncl.ac.uk
Click Connect
A notification will show when you are connected
Configure a network connection
After you connect as above the configuration is automatically stored for subsequent connections. You can edit this connection using the Network Connections window.
Right-click on the Network Manager icon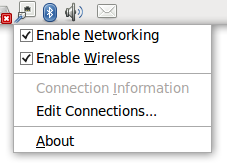 Select Edit Connections...
Network Manager uses the keyring to store credentials, when asked allow access,
Subsequent Network Connections
Click on the Network Manager icon
A notification will show when you are connected
Top