Windows Vista/7
Windows Vista and Windows 7 are no longer supported by Microsoft and are therefore considered at risk to viruses and hacking. The university no longer supports these OS versions. These instructions are made available for reference only, use at your own risk.
eduroam is the wireless roaming service used by the international research and education community. It is available across campus to visiting academics. The service uses the SSID eduroam with Wireless Protected Access (WPA2) and Enterprise level encryption (EAP).
Connect to network
Click on the Network Notification icon
Select eduroam from the list of networks
Since we have not entered any credentials we get the following,
Enter your User name and Password including your home institutions domain name, for example a1234567@ncl.ac.uk
You will need to reenter your login information every time you reconnect to the university network.
Installation
Click on the Network Notification icon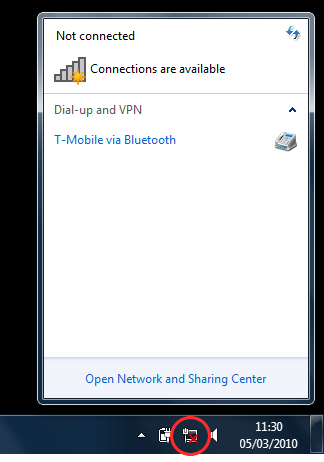 Click on Open Network and Sharing Center
Select Manage wireless networks from the side panel
Click Manually create a network profile
Set the Network name to eduroam
Security type needs to be WPA2-Enterprise
Encryption type should be AES
Deselect Start this connection automatically if you prefer to connect manually,
Click Next
Click Change connection settings
Select the Security tab
Set the authentication method to Microsoft Protected EAP (PEAP)
Deselect Remember my credentials as it is a security risk
Click Settings...
Deselect Validate server certificate
Make sure the Authentication Method is Secured password (EAP-MSCHAPv2)
Click Configure...
Deselect Automatically use my windows logon name
Click OK to close the EAP MSCHAPv2 Properties window
Click OK to close the Protected EAP Properties window
Click OK to close the Wireless Network properties window
Click Close to close the Manually connect to a wireless network window
Top