Windows XP
Windows XP is no longer supported by Microsoft and is therefore considered at risk to viruses and hacking. The university no longer supports this OS version. These instructions are made available for reference only, use at your own risk.
eduroam is the wireless roaming service used by the international research and education community. It is available across campus to visiting academics. The service uses the SSID eduroam with Wireless Protected Access (WPA2) and Enterprise level encryption (EAP).
Configure your computer
From the Start menu open the Control Panel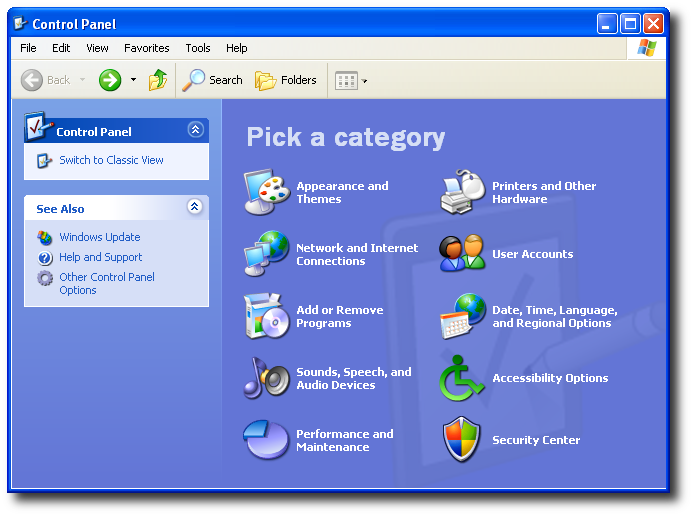 Select Network and Internet Connections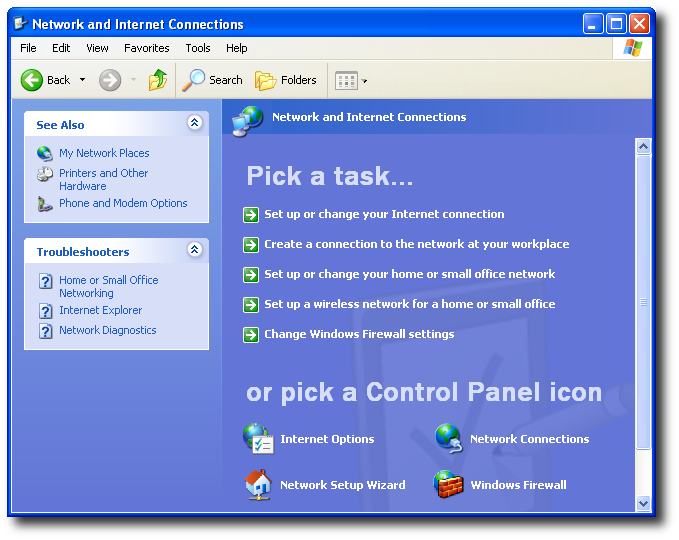 Select Network Connections

Look for the wireless interface under the LAN or High-Speed Internet section. If the interface is disabled, select it then
Right-click on Wireless Network Connection and select Enable
Once the interface is enabled,
Right-click on Wireless Network Connection and select Properties
Under the General tab check Internet Protocol (TCP/IP)
Click the Properties button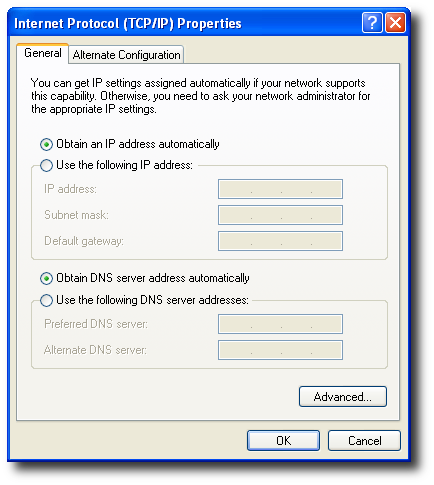 Under the General tab,
Select Obtain an IP address automatically
Select Obtain DNS server address automatically
Click OK to close Internet Protocol (TCP/IP) Properties window
In the Wireless Network Connection Properties window
Select the Wireless Networks tab
If the eduroam network is listed under Prefered networks
Select eduroam
Click Properties
If eduroam is not listed
Click the Add... button
Enter eduroam as the Network name (SSID)
Under the Association tab
Set Network Authentication to WPA2
Set Data Encryption to AES
Under the Authentication tab
Set EAP type to Protected EAP (PEAP)
Click Properties
Make sure Validate server certificate is NOT set
Set Select Authentication Method to Secured password (EAP-MSCHAPv2)
Click Configure...
Make sure Automatically use my Windows logon name is NOT set
Click OK in EAP MSCHAPv2 Properties
Click OK in Protected EAP Properties
Click OK in the eduroam properties window
Click OK in the Wireless Network Connection Properties window
Connecting to the wireless network
When you try to connect over the wireless interface to the eduroam network you will get a notification bubble,
Click on the bubble to open a window where you enter your login information
Use your University login and password including the domain of your home institution, for example a1234567@ncl.ac.uk
Logon domain should be left empty.
Removing cached login credentials in Windows XP?
Windows XP saves the username and password you use for 802.1X authentication so you don't have to enter it every time you connect to the network. This is not a safe thing to do. To clear your credentials on Windows XP edit the registry as follows,
WARNING: Making arbitrary changes to the registry could break your operating system
From the Start menu open the Run... window
Start the program regedit
Carefully navigated to HKEY_CURRENT_USER » Software » Microsoft » Eapol » UserEapInfo
Delete any stored values in this branch of the registry tree
The Network Setup Program has a feature do do this for you.
Window 7 and Vista both have a checkbox in the network properties window that prevents your credentials from being stored.
Top