Uploading Media
Supported File Types
The Streaming Server can stream a wide variety of file formats including: MPEG-4, 3GPP, Windows Media, RealVideo and FLV. See Helix Media Server Specifications for a full list of supported filetypes, codecs and protocols.
Digital Media Services are able to convert the majority of analogue audio and video formats to digital.
Adjusting Pre-recorded Media
Before publishing your media you may need to edit your files to a size that are suitable for delivery over the web.
Where possible we recommend saving files as MPEG-4 ( H.264/AAC codecs) which can be viewed on a large number of devices.
Your Folder on the Streaming Server
Your personal folder on the streaming server is
\\stream.ncl.ac.uk\personal\campusID
(eg. \\stream.ncl.ac.uk\personal\njb99 )
Uploading from a PC on Campus
Use Windows Explorer to open your upload folder: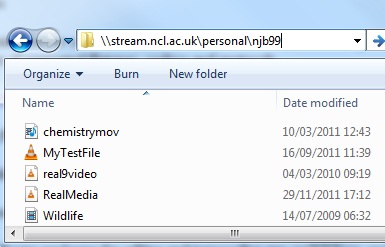 Drag and drop files into this folder
For convenience we would recommend mapping a drive to this location.
Uploading from a Mac
Mac Users can connect to the server using Cifs using the address:
Cifs://stream.ncl.ac.uk/Personal/<user id>
For details see the SMB/CIFS page.
Uploading files off campus using RAS
Logon to RAS, Open the Accessories folder and start the File transfer Utility
On the menu click Map Network Drive
Map a drive letter of your choice to \\stream.ncl.ac.uk\personal\campusID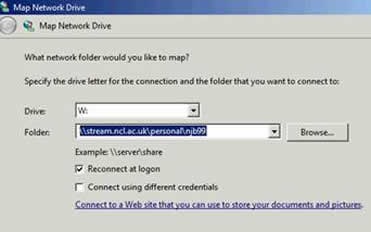 Picture
Use the RAS File Transfer Utility to copy files from your H: drive or from your local disk.
Publishing Media
See Publishing Media for details on how to make your media files available.
Top