eduroam Wireless Service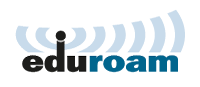 eduroam is the wireless roaming service used by the international research and education community. It is available across campus to all staff, students and visiting academics. Staff and students can also use eduroam when visiting other universities that also support the eduroam service.
NOTE: To connect to eduroam your username will be in the format c1234567@ncl.ac.uk which is your login ID followed by the domain @ncl.ac.uk, this is not your email address.
The eduroam service uses the SSID eduroam.
To configure WiFi for your device you should use the eduroam CAT tool. This will provide a more secure WiFi connection using certificate files. To install a WiFi profile using the eduroam CAT tool,

Run the eduroam installer (CAT tool) from cat.eduroam.org or scan the QR code.
Click the Download button
Select Newcastle University from the organisation list
If the selected downloader is for the wrong platform, click the Choose another installer link
Follow the instructions to run the application
Log in with username@ncl.ac.uk and your usual campus password
When finished, select either the eduroam or newcastle-university WiFi network on your device

For some platforms you will need to download the eduroam CAT app or similar from an app store, then you download the configuration from within the app. Windows uses a stand-alone app.

Use the QR Code to take you to the Newcastle University eduroam installer.
Windows
Running the app on Windows will show the following steps,
Welcome page
Next
Warning - that the app will only work for members of Newcastle University
OK
User credentials - enter your login ID@ncl.ac.uk and password
Username c1234567@ncl.ac.uk
Password ***********
Install
Installer - Installs the wireless profiles
Security Warning
Asks you to accept the certificate from Newcastle WiFi Root CA
Do you want to install this certificate?
Yes
Installation Complete
Finish
The app configures profiles for both eduroam and newcastle-university.
Generic Instructions
For platforms not supported by the CAT tool, you will need the following information to connect to WiFi.
SSID:

Security:

Authentication:

Inner authentication:

CA Certificate:

Username:

Password:

newcastle-university OR eduroam

WPA2 Enterprise

Protected EAP (PEAP)

MSCHAPv2

Newcastle WiFi Root CA

username@ncl.ac.uk

************
The main change is you should include the server certificate if possible, download and install on your device in the certificate store. The current certificate file is valid upto August 2022.
Less Secure Connections
You can still connect to the Campus Wireless Service without using certificates. This is easier to configure but less secure leaving you vulnerable to potential Man in the Middle attacks.
Select the newcastle-university WiFi network
Enter your University username and password when prompted
You will now be connected. If not check your settings and choose to Ignore Certificates.
NOTE: All devices are moving towards requiring certificates be used, and removing the option to ignore certificates, so you should start using the more secure configuration method described above.
Top