Assistive hearing systems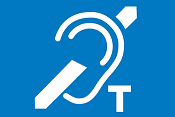 Many centrally supported (common user) spaces are now provisioned with professionally designed assistive hearing systems, that are fully compliant with current legislation. All systems are set up and configured for use at all times.
To see which rooms are enabled with this technology please see the Room Finder system.
To use the system please select the 'T' position on your hearing aid when in the room and you should pick up any audio from the sound system. If you find an assistive hearing system is not working correctly please report this to us.
If you would like us to check that an assistive hearing system is working ahead of your event then please complete our AV resource booking request process
If you feel that a specific non-centrally supported space would benefit from am assistive hearing system then please read our policy document below and then submit a request form
Please read this policy document if you feel a room requires an assistive hearing system
Top