Useful information
Useful information including recent improvements to our systems and facilities can be found below.
Teaching PCs now run Windows 10
PCs connected to AV systems in all centrally supported (common user) teaching spaces now run Windows 10 and Office 2016.
More details on the Windows 10 Rollout are available here.
Logging out of an AV Windows 10 PC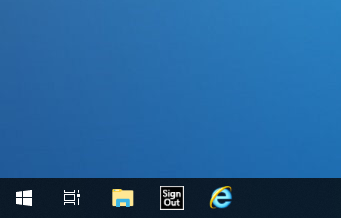 To log out of an AV PC running Windows 10, please use the Sign Out Button located in the bottom left hand corner of your desktop near the Windows Start Menu Icon.
No shut down options are available on AV PCs so we can ensure PCs are always available for subsequent users.
When finished please ensure you log out by using the Sign Out button. Do not leave PCs locked as this causes disruption for the next user of the room.
‌
Provision of Wireless Display Presentation (Solstice)
In new and refurbished centrally supported (common user) spaces we are deploying a wireless presentation system called 'Solstice'.
This will allow users to easily present content from their personal device to the main display in the room.
More details on using Solstice and where it is available can be found here.

Removal of VGA connectivity
To enable us to support connectivity of modern devices to our AV systems, and reduce the chance of users having technical problems, we now only provide digital connections to our systems.
All centrally supported (common user) spaces have an HDMI cable and, in a number of spaces, we will be providing wireless presentation connectivity (using a system called Solstice).
Please ensure that your laptop has an HDMI socket prior to using it in a centrally supported space. If it doesn't you will need to source an appropriate adapter, or connect to the wireless presentations system if available.
Widescreen displays in all supported spaces
To allow us to effectively support modern technology connected to our AV systems we now provide widescreen (16:9 ratio) displays in all centrally supported (common user) spaces.
As Microsoft Powerpoint 2013 & 2016 now utilise widescreen as their default format we strongly recommend any old presentations are adjusted to a widescreen format. This will allow the full width of the display to be utilised and remove black bars on either side of slides.
More information on how to change the aspect ratio of your slides is available via this link.
Please note that when using the Document Camera/Visualiser it will no longer show a full page A4 sheet of paper in portrait mode at once therefore you will need to adjust your teaching material accordingly, or move any content to be displayed up/down to show content in smaller sections.
Top