Kings Hall, Armstrong Building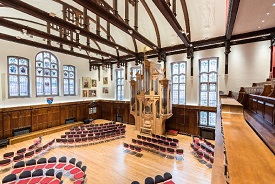 ‌Kings Hall is a grand and traditional space within the Armstrong Building that is used for prestige events including graduation ceremonies.
There is an audio-visual system installed in Kings Hall however there are some caveats to using it:-
AUDIO SYTEM
The audio system insitu is only suitable for voice amplification and not for concert-type events and there are two wireless lapel and two wireless hand-held microphones available to use.
Unfortunately we are not able to provide any additional microphones
PROJECTION SYSTEM
To use the data projection facilities insitu then you will first need to consider your staging requirements.
If staging is required then we strongly recommend 'option 5' as, if any other staging option is selected, the handrails will obstruct the projected image . All requests for staging must be submitted to Estates Support Services
Please note that so our team can set up the projection screen (as it is not available by default) we will need time available in Kings Hall, during working hours, both prior to and after your event.
BOOKING REQUEST PROCESS
To book the insitu projection facilities or microphones for your event, or if you would like to arrange a practise session, then please complete our AV Resource Booking Request form.
Should the insitu AV facilities not meet your needs then you will need to consider an external supplier (see here for information on external suppliers that may be able to assist).
More photographs of Kings Hall can be found on the Room Finder system.
Top